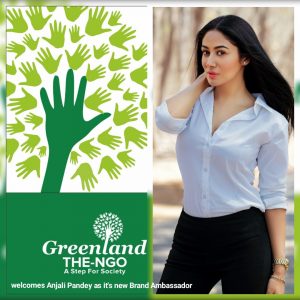 ACTRESS ANJALI PANDEY BECOMES THE BRAND AMBASSADOR OF AN NGO TO SPREAD AWARENESS ABOUT MENSTRUAL HYGIENE "MAHINA" & TO PROVIDE PADS TO RURAL WOMEN OF INDIA
Anjali Pandey who is riding high on the success of her short film "MAHINA" shares another good news. She is the new brand ambassador of Greenland The- NGO. Anjali is capitalising every opportunity coming her way which has the capability of changing the society, be it her short film Mahina or becoming the brand ambassador of Greenland. She aims to help the women in the society by distributing sanitary pads in the rural areas and educating them about the importance of using it.
Anjali along with the NGO also aims to heal the world by stretching out a helping hand to all the cadres of the society and free them of the ruthless and formidable societal norms of casteism, racism, gender inequality, unemployment and illiteracy.
Anjali Pandey is happy to be a part of this NGO. In her conversation with Mr. Himanshu Singh Chauhan, Anjali has planned out a route map for next couple of months which incorporates issues that need urgent attention.
"I am honoured to be on board with Greenland. I would like to thank Mr. Himanshu Singh Chauhan for considering me worthy of this responsibility. I believe in the topics which Greenland caters to. They have done some brilliant work in the past, I swear to do my bit" says Anjali.
"Our immediate plan is to do our bit to eradicate corona and improve the health care system in remote areas and educate them about personal hygiene, importance of health care etc" adds Pandey.