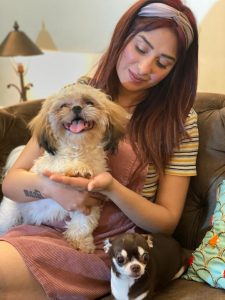 WILL PARAS CHHABRA GIFT MAHIRA SHARMA A BICHON FRISE, WILL HE FULFILL HER WISH?
They say 'humans who love pets are the best kind of people', certainly Mahira Sharma justifies this phrase.
Time and again the actress has showed her love for pets, Infact she is a mother of two cats and love them dearly.
It is said that one should get pets as a gift and never buy them which is why Mahira has asked Paras and her mother & brother for a Bichon Frise, a cheerful small dog breed with a love of mischief and a lot of love to give.
Considering the qualities of a Bichon Frise, no wonder Mahira wishes for a pet which kind of matches her qualities of giving love and mischief.
"I have my two cats and I love them, they are my family. Now I want a Bichon Frise, so lovable and cute. I have asked Paras and my mother and brother to gift me one" says Mahira.