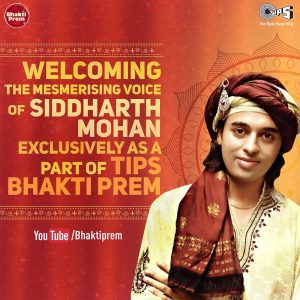 TIPS MUSIC WELCOMES SIDDHARTH MOHAN EXCLUSIVELY AS A PART OF TIPS BHAKTI PREM
Siddharth gave a soulful performance for Sh.Narendra Modi at Ayodhya early this month
13th August ,2020 -Most loved music label in India, Tips reveals their new artist, Siddharth Mohan as their latest addition to the label, Siddharth also recently performed before Honourable Prime Minister Shri Narendra Modi in Ayodhya.
Kumar Taurani says "We are very excited to announce Siddharth Mohan exclusively as a part of our family. Siddharth is young and hard-working man with a beautiful voice. We welcome him with open arms into our home and as a part our label"
"It has been quite sometime, Tips and I have been in talks and finally we can make an official announcement. I am sure that my association with Tips will help me grow as an artist and together we will create great content for current and new generations to come." says Mohan.
He also said that the label has done great things independently which is one of the reasons of his association.
Siddharth has released a new devotional track titled "Shree Krishna Govind" through Tips Bhakti Prem which is receiving lots of praise and love from his fans.