Mumbai- Taiwan: – As consumers have significantly cut down on going out due to the COVID-19 pandemic lockdowns around the world, the "Stay-at-Home Economy" has been one of the main beneficiaries especially as it has driven a new wave of demand for e-sports products. According to the latest market survey, the sales volume of the first quarter this year of ASUS's ROG esports laptops has grown by 40 % compared to last year, making it number 1 in the Taiwan market.
At the same time, the sales of Acer's esports laptops in the United States in the first quarter increased hugely by 49%, year-on-year, as it took the top spot in the first quarter with a market share of 25%. According to the International Data Corporation (IDC), the current esports laptop market will grow from just over 17 million units in 2019 to 26.8 million units in 2023.
E-sports laptops allow players to satisfy both their entertainment and work needs, while driving sales opportunities for peripheral products, including screens, motherboards, keyboards, mouses, and headsets. Major Taiwanese e-sports manufacturers, such as Asus, rank first in e-sports notebooks with a market share of 39.6%, while the second and third places are held by MSI and Acer, respectively.
In the survey about the world's best esports laptops in 2020, by the well-known American technology website "Techradar", Asus ranked first and third; MSI ranked fourth and Taiwan Excellence brands made up half of the top ten. ASUS's ROG (Republic of Players), launched a series of products such as ROG Strix SCAR III, ROG Strix Hero III and ROG Strix G this year. ROG Strix is the world's fastest gaming laptop with 240hz display rate that makes high-FPS gaming silky smooth for fast-paced play. Advanced RGB trim brings greater personalization to Aura Sync, along with per-key RGB lighting, a wraparound light bar, and Aura Sync-compatible peripherals. You can open up Shadow Drive with a physical Keystone for eye-catching visual light and audio effects, an encrypted but customized profile setup, and quicker profile loading to enhance gaming experience.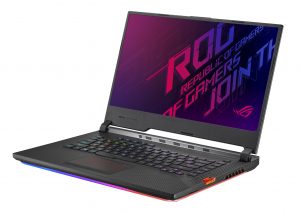 MSI's GT76 Titan features an Intel Core i9-9900K desktop processor, overclocked to 5.0GHz across all 8 cores, and RTX 2080 graphics. All this incredible power is kept cool with MSI's exclusive Cooler Boost Titan, which has a 4-fan and 11-pipe cooling design, and is able to generate 2.25 times the standard airflow. In order to enhance gamers' visual experience in their battlefield, the GT76 comes with a 4K IPS-level thin-bezel display. This flagship product also features the upgraded Killer DoubleShot Pro now supporting 2.5Gbps LAN and Wi-Fi 6 to provide an unprecedented user experience. 
Acer's The Predator X35 is the ultimate gaming monitor for professional hardcore gamers! This 35" IPS ultra-wide QHD 3440×1440 curved 1800R goliath immerses players completely in the gaming environment. Thanks to VESA DisplayHDR1000 standards, the X35 displays details beautifully, illuminating the darkest blacks and brightest whites. Players can say goodbye to ghosting with G-SYNC Ultimate combined with lightning-fast 200Hz refresh rates and a 2msresponse time to bring users a never before experienced seamless, tear-free experience.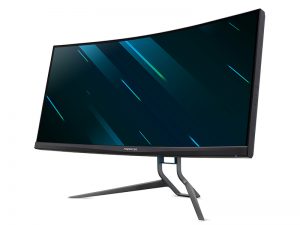 MSI's Z390 AORUS XTREME WATERFORCE showcases ultra-cool gaming aesthetics with its state-of-the-art, All-In-One Monoblock which comes in an acrylic cased design with vibrant, digital RGB and embedded dual-lighting effects. The AIO design delivers extreme cooling to the CPU, VRM, PCH, and M.2 SSDs. With GIGABYTE Ultra-Durable Technology components, all-solid capacitors, a fully digital power design, and intelligent fan control, the motherboard is both energy-saving and environmentally friendly.