Taiwan – Mumbai-: COVID-19 continues to torment the world and economic activities in different countries all over the world are suspended due to the outbreak. While the pandemic was still in its infancy, Taiwan took aggressive intervention measures to halt the spread of COVID-19. Not only did Taiwan suspend the export of important medical supplies, such as surgical masks, isolation gowns, and protective apparel very early on, but Taiwan also ramped up production of these items to effectively assist in the control of any domestic coronavirus outbreak. Till now, the production capacity of masks all over Taiwan had reached 18 million, not only enough for the entire population of Taiwan, but enough to allow us to help other countries. Up-to-date, Taiwan has provided more than 16 million masks to the European Union, the USA, and other friendly countries.
In addition to masks, isolation gowns, and protective apparel, Taiwan has something new to offer the world. Under the leadership of national research institutes like Academia Sinica and National Health Research, the biotechnology manufacturers in Taiwan are actively devoted to the research and development of testing reagents. Reagents are essential for the testing kits needed in huge volumes all over the world to allow societies to safely re-open. In combination, these products form a national front to prevent the spread of the virus both at home and abroad.
In contrast to the approach taken in South Korea of implementing mass screening, Taiwan only carries out the screening on people at a specific risk or with pre-existing health conditions. This is due to the successful strategy at the beginning of the outbreak and there being no large-scale community infection. This hugely reduces the waste of medical and nursing resources, so that the resources can be allocated to research and development related to virus protection.
Recently, Academia Sinica and the National Health Research Institute in Taiwan have made a huge breakthrough in the research of protein indicators for coronavirus testing. The method of directly testing viral proteins is different from the nucleic acid testing that is used by most countries around the world because it is able to differentiate coronavirus from other viruses precisely despite the higher technical difficulty. Moreover, the testing time can be shortened to just 15-40 minutes.
National Health Research Institutes have held technical briefings and there are 22 domestic biotechnology manufacturers applying for technology approval now. On top of Taiwan's viral protein testing technology being ahead of the curve, many biotechnology companies, including General Biologicals Corp., United Biomedical, Inc., Medigen Biotech Corp., Medigen Vaccine Biologics Corp., Applied BioCode Corporation, GenReach Biotechnology Corp. and Kim Forest, have developed nucleic acid testing reagents. As well as meeting the domestic testing demands, exports have already been made to countries in Southeast Asia and the Middle East.
In order to allow the world to share in our virus prevention resources, Taiwan Excellence continues to promote and enhance the marketing expansion capacity for virus prevention-related industries and held a Taiwan Excellence Online Press Conference for Telehealth Solutions on April 23rd. The conference invited manufacturers, including Leadtek, Netown Healthcare, Bionime, and Medimaging Integrated Solution to demonstrate telehealth solutions to the media and buyers from the Philippines, Vietnam, Indonesia, Malaysia, and Thailand. There were more than 60 media members and buyers participating in the event, as remote diagnosis and telemedicine will become mainstream in the future.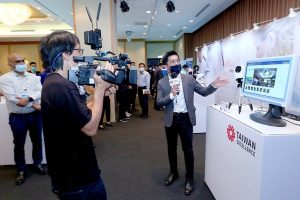 This was followed by a Taiwan Excellence Pandemic Prevention Product Launch – Online Press Conference on May 4th. More than 15 outstanding manufacturers of anti-virus medical devices, fast screening testing, telemedicine, and environmental protection were invited to present their anti-virus products to over 280 media and buyers from Japan, Malaysia, Vietnam, India, the Philippines, Korea, South Africa, Egypt, Australia, etc. From prevention, to testing, to treatment, Taiwan has the complete range of anti-virus industries, which forms a solid national protection net to face the challenge of coronavirus head-on together with the support of the Taiwanese people as a whole.