Taipei, Taiwan, June, 2020 – Looking into the future of technology, the mainstream American business magazine, Inc., pointed out that the crucial technological breakthrough of the next generation will likely come from new materials, which can accelerate the upgrade of the energy and manufacturing industries. Consequently, many countries have been investing resources in developing new materials. The United States, for example, invested US$250 million in 2011 to launch the Materials Genome Initiative, setting up a new paradigm for materials discovery and design. Following the U.S.A's lead, Japan initiated its own Materials Integration (MI) research in 2014 which focuses on studying fiber-reinforced plastics, alloy/metal compounds, and ceramics. Other Asian countries such as China and South Korea are also devoting themselves to research on the practical application of new materials.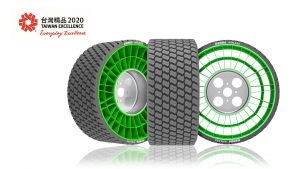 Jumping on the bandwagon, Taiwan is also making concerted efforts to develop new materials, and some amazing products have been created over the past few years. The products that won recognition in the 28th Taiwan Excellence Awards are especially notable. These creations represent huge achievements in the R&D section of various industries. For instance, the composite carbon fiber rims made by the Hecheng Group and Jianda's non-pneumatic tires represent state-of-the-art innovation in the automotive industry.
Composite Carbon Fiber Rims by the Hecheng Corporation
The Hecheng Corporation is widely known for its HCG sanitary wares. However, over the past 30 years, it has made innovations in technology and new materials and has now diversified into new fields such as fine ceramics and composite materials. To deal with environmental concerns such as global warming, energy-saving, and carbon emission reduction, the lightweighting of automotive components has become prevalent among major international car manufacturers. President Chen Zheng-Chien pointed out that Hecheng has dedicated itself to developing products made from fine ceramics and composite materials such as carbon fiber wheels which are ready for mass production.
Hecheng's carbon fiber composite material rims can replace traditional aluminium alloy rims and reduce weight by 20%; this can meet the eco-friendly requirements for vehicle components to be lightweight, energy-efficient and feature carbon reduction elements. Considering the structure of a vehicle, the ratio between the upper load and the lower load of the car suspension is about 20:1. Therefore, if 1 kg of weight can be eliminated from each rim, the four rims will be 4 kg lighter which is equivalent to achieving a lightweight effect of nearly 80 kg for the entire vehicle. This makes the car much more energy-efficient and saves fuel.
Non-Pneumatic Tires by Jianda Industrial
Jianda Industrial is a leading company in Taiwan's tire industry. The company has developed the K3003/K3004, the first non-pneumatic tire commercially available not only in Taiwan, but in Asia as a whole. The application of innovative Airless Tire technology requires no maintenance and is the first to be applied to large manned lawnmowers. In addition to regular roads, it is also suitable for grass, dirt and mountain roads. The design can effectively prevent work delays from tire damage caused by twigs, gravel and other foreign objects.
The tire adopts a directional tread pattern design with multiple layers of steel wire loops wrapped around it to enhance its strength, stability, and durability. The tire's lifespan can be extended as, unlike ordinary pneumatic tires, the airless tire doesn't need to be replaced because of accidental damage, and it has twice or more the service life of ordinary pneumatic tires. In addition, replacing non-pneumatic tires is convenient and time-saving as they can be changed without dealing with the rim and can be installed without using professional tire installation platforms for adjustment. The tire is made of low PAH level non-polluting material, which complies with EU regulations. Also, it uses non-toxic and green formulas with high-level wear-resistant characteristics, which makes it both durable and environmentally-friendly.
Automotive-Related Industries to be Showcased at 3-in-1 Expo, October 21-24
The 2020 Taipei AMPA, an International Exhibition for Auto Parts and Accessories, will be postponed due to the outbreak of COVID-19. It was scheduled to be held in Nangang Exhibition Hall 2 from October 21st to 24th, preceded by AMPA's online exhibition of vehicle components and accessories. So, instead, on June 30 this year, Taiwan Excellence will host an online press conference for award-winning companies developing smart transportation systems and automotive electronics. TAITRA now offers customized online services through a series of online press conferences, online procurement seminars, and online exhibition platforms to expand business opportunities for enterprises during the global pandemic.
For more information on our automotive industry, please visit the Taiwan Excellence website (https://www.taiwanexcellence.org/tw) for more details.
PR Contact:
Wu Chun-Tse, Strategic Marketing Director of TAITRA
02-2725-5200 #1300