Taiwan – ID Tech EX, a British research institute, estimates that the global smart textile market will reach US$2.2 billion by 2026, and one of the medium and long-term goals is the application in the field of medical care. According to estimates by the United Nations, people over 60 years of age will account for 26% of the total global population by 2050, and the demand for medical services will jump accordingly. Taiwan possesses high-quality medical services and solid ICT technology which, combined with artificial intelligence and cloud data across domains, can be integrated with the smart textile industry. This enables the development of smart apparel wearable device systems which can be applied to medical care equipment to expand medical services from disease treatment to health management, providing another wave of upward momentum for the Taiwanese smart medical industry.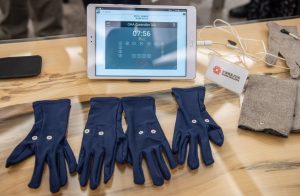 After more than 60 years of development and growth, Taiwan's textile industry has been constantly innovating and expanding production capacity, making the textile industry the most complete production system in Taiwan's industrial structure. Taiwan is also one of the main raw material suppliers in the world's functional textile consumer market. Building on these advantages, smart apparel combined with electronic sensing technology can provide more types of physiological signal measurement due to large areas of contact with the human body. The potential of wearable device systems for health purposes will, therefore, be shown effectively, and be seen as a promising development area for the coming years.
The electronic sensing system requires highly comfortable and stretchable conductive fabrics. The wire layout of the fabrics will affect the measurement of ECG signals and breathing signals. Taiwan Excellence award-winning companyKinpo Electronics Inc. cooperated withMAKALOT INDUSTRIAL CO., LTD. to launch their product XYZlife Patch. This smart clothing helps patients to track long-term heart disease, collect complete and comprehensive heart-related data, for improving the detection and diagnosis of heart issues through stable and long-term monitoring. The XYZlife Patch achieves the goals of smart medical precision medicine and preventive medicine in one application. Another award-winning product is the 'Wearable E-Massage Textiles'bythe Asiatic Fiber Corporation. It uses conductive fibres to break through the frame of fabric apparel and also features unique silver fibre weaving technology, combined with electronic device technology. When it was launched it became the industry's first full-model wearable E-Massage textile, using APP mobile intelligent control, to soothe pain and stimulate muscle contraction through electrotherapy to achieve the best medical and health care results for patients.
Since the outbreak of Covid-19, disruptive trends such as medical data being integrated with artificial intelligence and IoT devices, and decentralization in the medical field are now turning the highly professional and conservative medical industry on its head. Institutions and companies must provide more efficient and cost-effective treatment and care options. In the near future, the focus of medical care will be on improving overall health, not just treating diseases, and new roles and products related to a more holistic approach will put pressure on the industry to be lean and adaptable. Taiwan's innovative capability is among the best in the world and I firmly believe we are ready to grasp the business opportunities of the next wave in the smart medical industry.