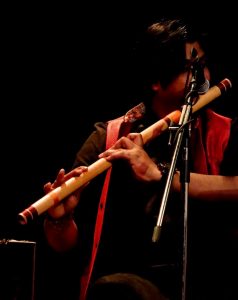 INDIAN FLUTE PLAYER PARAS NATH WHO REPRESENTED INDIA ON GLOBAL PLATFORM.
His rich heritage of musical background and his natural talent of playing flute-like no other won him the privilege to glorify Indian soil on the International platform at German Philharmonic Concert Hall where he represented Indian Classical Music.
Along with other music pioneers of countries like London, Africa, Turkey, Istanbul, new age maestro in playing the instrument flute, Paras Nath represented India at German Philharmonic Concert Hall "Representing India on the International level was an absolute honour. It is a matter of pride for any Indian to glorify Indian flag worldwide. I shared the stage with some outstanding talent from all over the world and learnt so much"
We hope he achieves such high accolades for the country in the coming times and makes India proud.