Lucky Nadiadwala Morani Productions presents the film "SAYONEE"- A musical action thriller.
Carrying forward the legacy from her Nadiadwala grandfather and father…and combining the successes of Morani family into which she got married… namely the makers of the classic cults Yaarana, Raja Hindustani, Rafoo Chakkar, Damini and many more, Lucky Nadiadwala Morani Productions celebrates & present 'SAYONEE" like never before…an all-time musical hit by recreating this masterpiece through a film titled under the same name.
Some melodies are timeless and 'Sayonee' is one of those soundtracks which even today, after two decades since its release, is still a much loved song of thousands of music connoisseurs and followers all across the globe.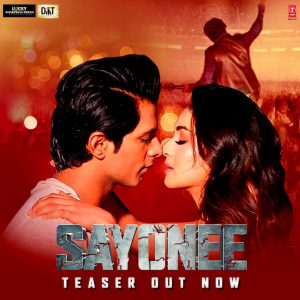 An iconic song being revisited and recreated to relive and connect the new age and sung by none other than Arijit Singh. Not to mention that all the songs in the film are going to be the latest top of the charts.
A musical thriller, Lucky Nadiadwala Morani says "Honoured to carry forward torch and the legacy of two major families of Bollywood and recreating the cult song "sayonee "for our musical thriller and I am proud to introduce the newest kid on the block- the talented Tanmay Singh as the main lead into Bollywood.