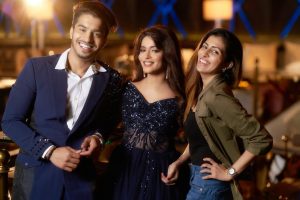 CELEBRITY STYLISH RICHA RANAWAT STYLES DIGITAL STARS FAIZ BALOCH & SHIFA MEMON

We see the most talked-about couple Shifa Memon & Faiz Baloch dressed as bride and groom, wait are they tying the knot? Is this what the fans were waiting for?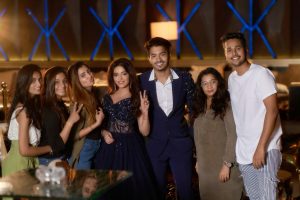 We wish it was, but none less this photoshoot is definitely a treat to all their fans. Richa Ranawat from Styleinn planned this concept with Shifa & her team as she felt the couple was perfect for this shoot, the chemistry they carry is amazing.
Richa initially had planned to shoot only one of the looks but seeing the interest of both Shifa & Faiz they decided to go for the other look as well. While dressing them in the traditional bride and groom attire, Shifa adorned the intricately detailed red lehenga by styling by Richa Ranawat and Faiz wore the royal sherwani from Ys Meraki.
These candid pictures show their camaraderie, the amount of fun they had while shooting at Sin City, Andheri with so many options and space which was commendable.
The couple looked absolutely made for each other, both Shifa & Faiz rose to fame from TikTok. They have won millions of hearts and their fans definately wait to see them together.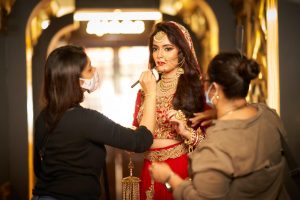 In the cocktail look, both Shifa Memon & Faiz Baloch looked stunning when they wore outfits by Styleinn by Richa Ranawat.
Richa kept in mind their innocence and simplicity along with elegance and class. Shifa in a blue off shoulder gown dressed just like a princess and Faiz dressed in a blue blazer with detailed spikes on the blazer looking handsome.
Overall, the whole shoot was fulfilled with loads of fun and laughter and yes with all the safety precautions!!
Special thanks to Parul Chawla for the amazing location and keeping all safety measures as a priority and special thanks to the team who made this possible.
Hair beautiful done by Jayshree Thakkar, Makeup by stunning Darshita Bhatt and outstandingly captures by the very talented Rohan Pingle.