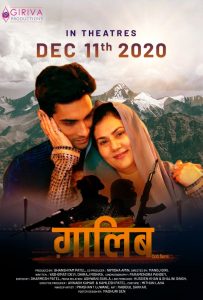 Gaalib all set to hit the theatre on 11th December 2020
The filmmakers are always in search of stories and even they can extract a story from the warmth of the valley. The filmmaker Dhiraj Mishra is all set to present his film "Gaalib" from the valley. The story is inspired by the struggle of a terrorist Afzal Guru's son  Gaalib. The film is produced by Ghanshyam Patel, co-produced by Nimisha Amin and directed by Manoj Giri. The trailer of the film has been launched on social media and the film will hit the theatre on 11th December 2020. The role of Afzal Guru's wife is played by Sita fame Dipika Chikkalia, Kashmir based actor Mir Sarwar as Afzal Guru and Nikkhil Pitaley as Gaalib.
The film had been shot at Bhadarwah and Prayagraj. During the making of this film, Dhiraj has to face a lot of obstacles and moreover to convince Dipikaji was also a tough task. Dhiraj Mishra has written the story of the film along with  Yashomati Devi which has taken almost a year. Other actors are Anil Rastogi, Ajay Arya, Ajay Rawat, Megha Joshi and Vishal Dubey. The film Gaalib is based on the ups and downs of Gaalib's life and the situation of Kashmir.