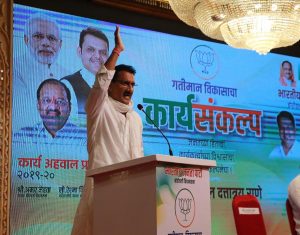 Annual report of development work by MLA Sunil Rane.
The annual report of various development works presented to the public on 24th October 2020 at Jasmine Hall, Raghuleela Mall, Kandivali. The event was attended by Mumbai BJP President Mangal Prabhat Lodha and MP North Mumbai Gopal Shetty & Nitesh Rane, MLA, Kandivali, Amar Mehta and Yogesh Sagar.
In the 2019 Assembly elections, the party leadership of the Bharatiya Janata Party nominated Mr. Sunil Rane from the Borivali Assembly constituency in Mumbai and the people of Borivali trusted him and elected him as MLA with a large majority. After that, Sunil Rane visited the entire constituency and met all the people and started the service work for the overall development of Borivali.
Sunil Rane said that the support given to him by all the office bearers and activists of the Bharatiya Janata Party was invaluable in this journey and those continuous efforts would be made to earn the trust of the people through the development work.
The development work is done by Sunil Rane mainly includes the construction of security wall, development and renovation of constituency grounds, installation of CCTV cameras, distribution of bicycles to poor girls under Beti Bachao Beti Padhav Abhiyan, Super Specialty Hospital at Borivali. Various such demands were made in the Legislative Assembly. In the Corona epidemic crisis, all the BJP office bearers and activists in the Borivali constituency were doing great work as a warrior. The services include distribution of foodgrains, distribution of food through community kitchens, distribution of immunosuppressive arsenic album pills, distribution of masks, sanitizers and face shields, distribution of safety shoes and sandals to municipal hospital staff and disinfection of each ward in the constituency.