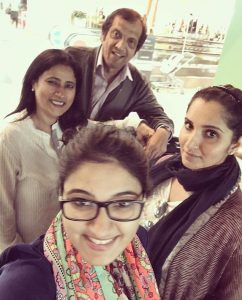 SaniaMirza's #Father Explains What Kind Of #Parenting It Takes To Raise A #SportsChampion
…
It has taken exceptional #passion, #hardwork and #dedication for the #tennissuperstar @mirzasaniar to reach where she is today. When she wins any #tournament for #India, we applaud her #achievement. But, seldom do we #appreciate the efforts that Sania's #parents must have put into #support her #journey. In fact, this holds for all #sportsplayers and their parents across the world.

It is evident that Sania's father @imranmirza58 and #mother @nasimamirza must have left no stone unturned to nurture their #daughter's #talent. In a recent podcast with former Indian cricketer WV Raman, Sania's father candidly spoke about their parenting experiences.
Imran Mirza stated that his #family believed that #sports is a great life teacher. As parents, they simply wanted their daughter to enjoy the sport (and it remains their mantra to date). It was only when her coach drew their attention towards her natural flair for the sport that they decided to #encourage her to pursue it seriously.

It also took several financial challenges to meet Sania's training expenses even though she was yet to carve a name for herself. Not the ones to deter, they spent relentless endeavour in finding sponsors.

Right from ensuring Sania eats and sleeps well and follows her training schedule, handling media controversies and pepping her up when she loses a match, her parents also juggle a lot between compartmentalizing their roles as a parent, coach and psychiatrist.

Imran Mirza also said that Sania always needed the conviction to #believe in herself. But, once she did, she would chase her #goals. He advised that parents should never view their children as return on investment and never allow their negative emotions to impact their child.

We have only one word for Sania's parents. #Respect
You can watch the full podcast on YouTube.
…
📷 @mirzasaniar