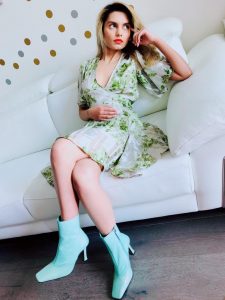 "Depression and anxiety are serious issues irrespective how old you are," says Shannon K.
As she started her career in USA, this global singer and performer had her share of struggles, bullying and racism which led her to depression. Dad Kumar Sanu wasn't of any help because he didn't know where she works.
Her song "Give me your hand" is a musical interpretation of her personal experiences.
With the topic of mental health gaining momentum, Shannon K shares her story when she was 'suffering in silence'
At the age of 15, people blamed her on social media for not being biological daughter but adopted from an orphanage, still wants to sing like him, which took a heavy toll on her mental health. This incident led to Shannon attempt to self-harm by cutting wrist. Fortunately she survived because she was surrounded by family who made her understand that life is precious, you can't lose it for anybody.
"Like adults, children and adolescents can have mental health disorders that interfere with the way they think, feel and act. Incidents of your childhood can leave a scar which has repercussions in your adult life. Depression and anxiety are serious issues irrespective how old you are. I got a letter from 45 years old man after Give Me Your Hand song release that he is feeling positive now but he had self-harmed for 6 times in the past. Even children go through depression, anxiety which is as serious as an adult going through the same. The worst part is, people, make fun of you when you share your experience to help others" says Shannon K.
Shannon concludes by saying "Depression is not your fault or caused by something you did wrong"