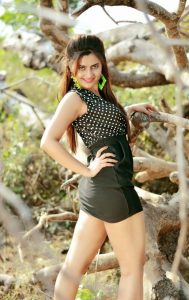 Leslie Tripathy is a Multi-lingual Award Winning Indian Film Actress based in Mumbai. Leslie Tripathy has acted in films, music videos in more than 12 languages. Leslie Tripathy marked her debut in lead roles in Bollywood with "W- Being Woman". Leslie's latest Hindi film "Ek Apoorna Katha" directed by Smt Kadambini Mishra, produced by Padma Shri Sisir Mishra is getting multiple International Awards, her latest Hindi Comedy short film "Bhaada" has won Leslie many awards and garnered great reviews for her expressive eyes. Her Hindi Shortfilm "Jindagi" has been screened at schools colleges to create awareness on overcome depression and preventing Suicide. Currently shooting a Hindi film to raise awareness on preventing Acid Attack "Aur Nahin Bas Aur Nahin".
Leslie has acted in many other languages including Marathi film "Bhavishya", Telugu film "Chusinodiki Chusinantha" with Shivaji, Nagababu. Chhattisgarhi Superhit films "Rangrasiya", "Rangobati" with Padmashre Shri Anuj Sharma, Tamil Film with Abhay Deol in his production "Idhu Vedhalam Sollum Kadhai". Leslie has also acted in popular Bengali, Oriya, Haryanvi, Punjabi, English, Hindi Music Videos.
Leslie Tripathy is a Gold Medalist in English Literature, Poet, Award-winning School Debator and often seen on News Channels as a Tv Panelist on Tv Channels she studied Journalism in Asian College of Journalism, Chennai. Leslie Tripathy hosts an International digital "Talk Show" "Leslie Show", also blogs for Leslie Tripathy Blog. Leslie Tripathy is the Author of Award-Winning book motivational book "Because I Am A Girl"
Leslie Tripathy is also a Popular Brand Ambassador, in-demand Motivational Speaker on Women's Rights, Making dreams a reality. Leslie is also a Popular "Social Media Influencer".