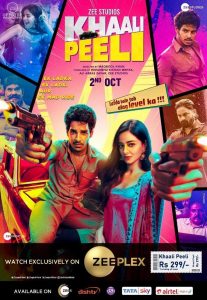 Khaali Peeli releases on Zee Plex, reviewers give it a big thumbs up
KHAALI PEELI is a mad fun ride with some wacky and interesting storytelling. Despite the predictability of the plot, the Non- Linear narration has been brilliantly used to make the screenplay racy and exciting. The story moves forward over an incident one night with the screenplay reigning in by stitching together the characters and their arc for almost a decade – An ace served by the writers indeed.
The story begins with Pooja (Ananya Pandey) running away from the captivity of a goon from Kamatipura and hitching a ride in the Kaali Peeli taxi of Blackie (Ishaan Khatter). The adventure begins with a CBI cop Tavde (Zakir Hussain) hot on their heels along with the baddies of Yusuf Chikna ( Jaideep Ahlawat). There are interesting twists and turns that keep the viewers interested despite the predictability of the plot. There are plenty of chase sequences with a retro background score akin to the 80's and 90's reminiscing of the genre of films that were served in those times. The film also uses the Bambaiyaa slang to the fullest making some of the dialogues memorable despite the tackiness.
The movie marks the entry of Ishaan Khatter to the big bad world of Bollywood as a Masala hero and he does make good use of it. He acts well, dances like a dream and fights like hell. There is crackling chemistry between the leads with Ananya Pandey giving a fantastic performance to prove her detractors wrong – she gets most of her emotions right and lights the screen with here effervescence and bubbly charm. Jaideep Ahlawat is subdued despite playing the villainous character and gets limited screen time to display his capability. Swanand Kirkire aces it up with a sinister performance that is bound to raise eyebrows. Anup Soni, Sathish Kaushik is wasted with nothing much to do.
The debutante director Maqbool Khan makes a mark with his novel ways of storytelling and is backed by some superb cinematography by Adil Afsar. A special mention on the brilliant editing done by Rameshwar S Bhagat that helps to keep the pace of the movie even despite the flashback cuts. Vishal – Shekhar duo have tried to innovate with the blues and R&B styling with Shaana dil packing in a punch despite the trendy hotness of Tehas Nehas.
Overall, KP is a wholesome entertainer that is a perfect watch this weekend. Go grab your tickets now and watch it at the comforts of your home.
You can book tickets and know more on http://khaalipeelimovie.com/
Rating – 4/ 5