JAAN KUMAR SANU, SON OF KUMAR SANU ENTERS BIGG BOSS 14
Jaan Kumar Sanu, a world record holder for being the youngest singer in the world, is all set to participate in the biggest reality show Bigg Boss 14. Jaan who is the son of singer another world record holder Kumar Sanu vows to keep it real and stay true to his personality during his stint in the house.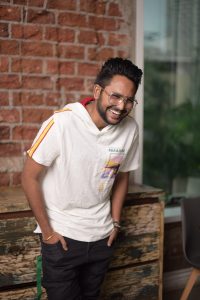 It has been a conscious decision of his family especially his mother to keep him away from the limelight so that he can enjoy a normal upbringing and little perks of life.
Jaan however had no clue of his father's celebrity status for the longest part of his life, for him Kumar Sanu was a guiding force in his life who taught him about music "Funny thing, I had no clue that my father was a celebrity. I was never made to feel special. My mother was very particular about this. I remember as a child, she prioritised education and music over everything. Infact my first stage show was not in a high profile Page 3 party, it was in a Ganpati Pandal opposite my house where I sang Jai Ganesh when I was very young".
It was only while growing up that Jaan realised that his father is one of the biggest singer in Bollywood "Like I said I had no clue. It was only when I grew up I realised my father's celebrity status. Infact it came to my notice through my friends in school and collage when I came and told my mother that my father is so big" further adding "As a singer and as a musician, I am his fan. Learning music from him as a child was like going to a Gurukul. However, my maternal grandmother was the first person to get me in to singing. She was my first teacher".
His mother however, kept Jaan grounded to his roots. He started learning Hind Classic Music when he was barely 3 years old. It was his mother who was adamant to get Jaan to polish his inherited music skills and learn music professionally.
Insisting that his choice to enter the Bigg Boss house is not a flash- in- a -pan decision, Jaan says he has always been a fan of the show "I have been a big, big fan of Bigg Boss since forever now. The scale of the show is huge. I know so many people who watch it religiously everyday when it airs. How can I refuse this once-in-a-lifetime opportunity. Until last season my mother and I used to watch it together at night. We used to finish our commitments in the day so that we could sit and watch the show. Now that I am a participant, feels surreal. I am excited and nervous at the same time, I don't know how will my journey unfold but I promise the viewers a lot of music, entertainment and positivity".