Doctors Mahaan – Ram Shankar, Sneha Shankar & Aditya Shankar's musical tribute to corona warriors fighting from the frontline to save lives.
Released by Ex CM of Maharshta Shri Devendra Fadnavis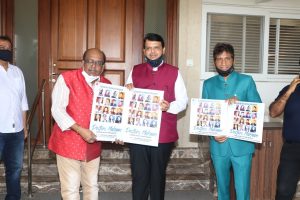 In the presence of Shri Raju Shrivastav( Chairman Film Development Council-UP) & Shri Ram Kadam(MLA-BJP)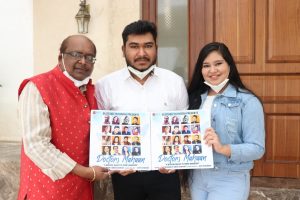 Music on- Zee Music Company
Featuring artists- Shakti Kapoor, Mukesh Rishi, Gavie Chahal, Ganesh Acharya, Deepshika Nagpal, Varsha Usgaonkar, Gajendra Chauhan, Arjun Feroz Khan, Himani Shivpuri, Raju Srivastav, Hemant Pandey, Bijendra Kala, Gopi Bhalla, Shireen Mirza, Kamini Khanna, Neelu Kohli, Roshni Walia, Shamin Mannan, Shardul Pandit, Gurmit Singh (Shera), Tanisha Singh, Harshita Chaudhary, Awez Darbar, Zaid Darbar & Anam Darbar
Ram Shankar, Sneha Shankar & Aditya Shankar's new song "Doctors Mahaan", serves as a motivation to fight the coronavirus pandemic.
The song begins with simple yet compelling lyrics "Bhagwan ko dekha nahi kissi ne zameen pe, par uske hi kai roop dekhe hai yahin pe".
They have paid a musical tribute to all the Corona warriors including Doctors, Nurses, Medical Workers, Emergency Services Workers, Sanitation Workers, Farm-Workers and Grocery Workers who are first responders, and are working relentlessly by putting their lives at stake to treat Covid-19 patients & control the spread of the virus amid the global outbreak "We should respect the efforts of doctors, policemen, BMC workers & all those who are risking their lives to keep us safe"
"We hope the song makes them feel special. We hope it allows them to feel seen, heard, and valued and for everyone to remember the this too shall pass. We hope it creates positivity and spreads a smile" says Ram Shankar, Sneha Shankar & Aditya Shankar.
Singers – Ram Shankar & Sneha Shankar; Music Director – Aditya Shankar; Lyricist – Ram Shankar; Song Programmed & Arranged by Sanjay Jaipurwale; Rhythm Designed by Prashant Sonagra; Live Guitar – Sanjay Jaipurwale; Mixed & Mastered by Sanu Sheth; Song Recorded & Edited at Blessing Digital Studio's
Production House – Blessing Telemedia; Producer – Ram Shankar; Video; Director – Ram Shankar; Direction Support – Nabh Kumar Raju & Manoj Sharma; Video Editor – Nihal Ahmad