Apex Group of Hospitals launches Home isolation Care app for COVID-19
Big relief for Western & Eastern suburb citizens to fight against Corona Pandemic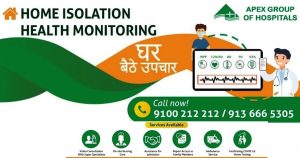 Mumbai- As Maharashtra nears its COVID peak and availability of hospital beds may become further difficult, the state health department has issued guidelines allowing individuals testing positive for corona but with mild or no symptoms to be isolated at home if appropriate facilities are available at their home. Home care is becoming the next front in the battle against the coronavirus as private hospitals look to ease the burden on overwhelmed healthcare systems.
Apex Group of Hospital which is one of biggest multispecialty Hospital group in Mumbai started COVID Home Isolation Care services with minimum charges for patients with mild symptoms of Coronavirus in their Borivali- Kandivali, Dahisar Mulund and Thane city. A 14-day remote monitoring package home isolation care service which includes Online Doctor Consultation every third day, app bases medical assistance, daily Virtual Assistance & Monitoring, daily monitoring of a patient's vital signs with a trained paramedical staff on call every day, 15 days Medicine, Masks, Surgical,  Thermometer, Pulse Oximeter, glucometer. At the same time, hospitals will facilitate it if hospitalization is required.
Apex Group of Hospitals has developed advanced medical care technology (Apex Connect care app) where patients' regular health monitoring will display in the Hospital server which will make virtual Monitoring of COVID- 19 Patients easy.
  
"With this initiative, we intend to lend a helping hand to the government in fighting against this immense pandemic by offering Home isolation care services for patients with mild symptoms of COVID-19. Apex Healthcare package includes onboarding calls by trained a Corona assistant on how to implement home isolation protocols, app-based self-reported inputs to check temperature, heart rate, increase in symptoms and new symptoms, doctor consultation, a psychologist consultation and a dietician consultation. We don't suggest home isolation for a patient unless a video consultation takes place between a doctor and the patient. Once the doctor certifies home isolation, the patient is enrolled for our Home Isolation Health Monitoring package for 15 days at minimum cost", explained Dr.Vrajesh Shah –Director Apex Group of Hospitals.