About Me:
I'm Nasir Pipulkar a Mumbai based working professional with diverse experience of more than 18 years in Hospitality and Financial Services, worked with MNCs like ICICI, Kotak Mahindra and HDFC.
The Disease & Treatment:
The big "C" whom all of us dread and don't even want to imagine about it, in the form of Cancer came to test my endurance level. The word itself sounds monstrous enough to send chills through the spine. Oblivious to its presence in my body little did I imagine that the small ulcer on my tongue was inert enough to all the treatments and would turn out to be Cancer when biopsy was done at the behest of my doctor.
Flabbergasted, for once my all the dreams for the realization of which I was toiling seemed to crash around me. My thought process was numbed upon learning that I was inflicted with this dreadful disease. The world around me and my family just crumbled.
Once the reality dawned I accepted the new condition and decided that come what may, it will have to be out of my body's system. After all, Mount Everest, once insurmountable was conquered by Sir Edmond Hillary and many others afterwards. Similarly, there were many who won over Cancer before me. Obviously, I decided to confront it head-on. To this day I'm thankful to the doctors who left no stone unturned in my treatment. My story is about the combined strength of their efforts, expertise complemented by my trust in them and my determination and positive intent to defeat cancer.
Operated by the doctors at Tata Memorial Hospital in Mumbai, a third of my tongue was removed. While conducting pre-operative tests they found that my right side of neck was also affected. They decided to operate my neck also. The surgery was followed by radiation therapy but for sure the healing process was not an easy one to negotiate.
On many occasions, I almost gave up. After all, the pain was too much to endure for me. I felt I wouldn't be able to sustain the excruciating pain. Though I had my family to support and encourage me by positive reinforcement but then the treatment was too draining emotionally as well as physically for me and my family.
I looked different, I wasn't able to speak or eat, being fed thru feeding pipe which was inserted thru my nose and later directly into my stomach as thru nose it was passing from the affected region of the neck and there were high chances of feeding pipe getting destroyed during treatment. Feeding pipe was just good enough to ensure that I wasn't hungry. No taste of food and going directly in the stomach.
The trauma that I bore also had an impact on my wife and my children. They too suffered the mental stress. Being nursed and supported by my wife all thru, life was so uncertain that I wanted to meet my other family members too not knowing how long I would survive. I always used to look forward to visiting hours in hospital since that was the only time I could see my friends, family and relatives.
Still, I missed my son too much who was just a toddler and wasn't allowed in the ward. My eyes used to well up seeing him waving at me from outside the hospital. But then his sight also used to provide me the hope and thoughts that I need to live for him and I cannot lose this battle against cancer.
Post-surgery it was indeed a shock to see myself in the mirror but then that was the new reality. But for sure, my treatment combined with unflinching love, support of my family and my determination the Cancer ceded the battle and I won.
New Perspective:
Those dark days gave me a new perspective about life. How uncertain it can be and the struggle and fight was a test of character. I found the purpose of my life and I'm happy to live to share the story and help others thru spreading awareness.
Highs and Lows are part and parcel of life. Being diagnosed with cancer, it is important that we accept and take this reality positively in our stride so that we can defeat it. An awareness about the line of treatment and faith in it is very vital to sustain. As one copes with the disease it is imperative that he/she derive strength from family, friends and community to manage emotions, finances and thoughts. I would say that –
Talk to the health care team and have confidence in it.
Share the concerns with family and friends so that they can help.
Join some good support group to share your experience and learn from their similar experience.
A good counsellor would help greatly in managing the emotions and depression of you and your family.
If you feel that you have lost your interest in your usual activities or are struggling to concentrate, sleep, or eat, tell a member of your health care team and ask about counselling options.
Cancer – how it begins:
It is important to know that our thought process is a vital feed to the cells of cancer. Present in body, we should avoid indulging in any kind of negativity. These negative thoughts are the fodder for cancer cells to grow.
Cells are the basic units that make up the human body. Cells grow and multiply to make new cells as the body needs them. Usually, cells die when they get too old or damaged. Then, new cells take their place.
Cancer begins when genetic changes interfere with this orderly process. Cells start to grow uncontrollably. These cells may form a mass called a tumor. A tumor can be cancerous or benign. A cancerous tumor is malignant, meaning it can grow and spread to other parts of the body. A benign tumor means the tumor can grow but will not spread.
Some types of cancer do not form a tumor. These include leukemia's, most types of lymphoma, and myeloma.
Completely recovered and as I adjust to my new normal life, I have made it a mission to try and help others get through what I went through.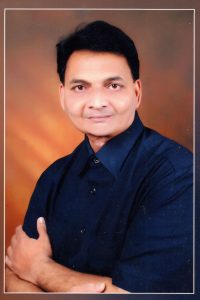 I often Visit Tata Memorial Hospital and talk to patients and their family members. I explain that certain things like when you can eat again or what your limits will be, how to cope up with the treatment and try to boost their morale.
I also tell them it will get better — and it will with faith, determination and strong willpower.
If you have a story to share, write to us at – topworldnewsdaily@gmail.com