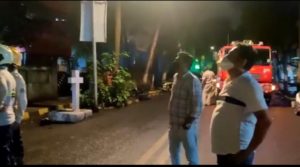 A portion of building slab collapsed in I.C. Colony in Borivali west on Saturday evening. No injury took place in this incident.

According to the reports, This incident took place on Saturday evening at I.C. Colony Borivali west, 11 families were evacuated from the building.
Shivsena leader Abhishek Ghosalkar along with his party workers rushed to help. The rescue operation is underway.