Music on- T- Series
As people around the globe continue to stay home and slow the spread of the coronavirus, celebrities have been using the time to tap into their creative side.
The trio is back with one more love song "RONA LIKHA THA" in association with Ramji Gulati.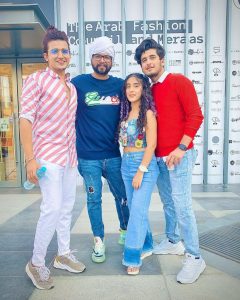 The song incorporates all elements from love to tragedy in the beautiful voice of Indian Playback Singer, Ramji Gulati. The song also gets its magic from Akkhuur, Mooddy's lyrics. This track is all about the separation of love because of minute misunderstandings between two people. It eventually leaves an impact on its storyline and makes you feel the pain.
Talking about the song, lead stars, Bhavin Bhanushali, Sameeksha Sud & Vishal Pandey said "The song has many emotional moments attached to it. It will leave an impact for its music, lyrics & emotions".
Ramji Gulati says "It is a soft, heart-wrenching, song. Bhavin Bhanushali, Sameeksha Sud & Vishal Pandey are a bunch of professional, creative geniuses. It is always a pleasure to work with them. Hope the audience likes it as much as we do".