ON THE OCCASION OF SRI KRISHNA JANMASHTAMI, ISKCON BHAKTI KALA KSHETRA HOLDS A VIRTUAL RADHA KRISHNA UTSAV 2020
FROM 8TH -12TH AUGUST, 2020 SPEARHEADED BY MANAGING TRUSTEE OF BHAKTIKALA KSHETRA H. G. DR. SURDAS
First time ever virtual telecast of Radha Krishna Utsav 2020 for all Krishna devotees and music and art lovers curated by Sumit Arora, Amit Bisani and Rajesh Negi.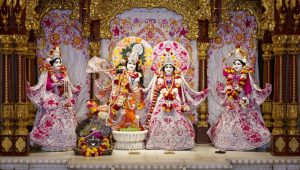 Link will be given on 7th Aug
On the occasion of Sri Krishna Janamashtami Bhakti Kala Kshetra, the cultural wing of ISKCON is organising the biggest virtual Radha Krishna Utsav festival for all the Radha Krishna devotees across the world through their Facebook and YouTube page.
www.bhaktikalakshetra.com
ISKCON is certainly known and famous for their annual grand Janmashtami celebration. However, keeping the safety as their utmost priority during COVID pandemic ISKCON'S BHAKTI KAL KSHETRA has announced their virtual celebration of Radha Krishna Utsav 2020 with the best line of entertainment programs for five days.
According to the management, the program is organised in such a way that all the Radha Krisha devotees from across the world can enjoy the festival through their YouTube and Facebook page.
Managing trustee of Bhaktikala Kshetra H.G.Dr Surdas says "Krishna Janmashtami is a grand festival celebrated all over the country to commemorate the birth of Krishna, who is believed to be the eighth incarnation of Lord Vishnu. We at ISKCON BHAKTI KALA KSHETRA every year organise the festival for hundreds and thousands of devotees across India, however this year the celebration will be virtual. We seek the blessing of Lord Krishna to help us in these tough times" further adding "Though we will not have physical celebration, we are happy to reach millions of people through our virtual celebration. Indians and Lord Krishna devotees from all over the world can participate and enjoy the celebration virtually. Just like every year this year also we have a good line of entertainment programs from dance, singing to flute. We request everyone to participate and join us on our YouTube and Facebook page" https://www.facebook.com/BKK.ISKCON/?ti=as
www.bhaktikalakshetra.com
Bhajan Samrat Anup Jalota says "My Warm greetings on the auspicious occasion of Sri Krishna Janamashtami Bhakti Kala Kshetra. This year since this Utsav will not be happening at the temple, I extend my humble invitation to all of you to enjoy this festival from home. I will performing bhajans from home. So let's all come together to pray and worship to Lord Krishna and enjoy the festivity"
Ronu Majumdar says "Hare Krishna.
My association with Bhakti Kala kshetra goes back to the 80's.
I have been very close to the Mandir and Surdas Prabhu and the whole team . I feel a part of the Radha Rasbihari Ji and will always continue to do my seva as my personal seva with Shri Lord Krishna's Ashirwad and Bhagti Kala Kshetra's association with me I pray that I continue this till the last day of my life.
I am happy and looking forward to do my Seva for the Global Virtual Radha Krishna Utsav 2020, I will be presenting my Raag and Bhajans of Banke Bihari. Please be a part of it and enjoy the music"
Hema Malini says "Hare Krishna! On 12th of August our Radha Ras Bihari Nritya Natika will be presented Virtually, I urge all of you to come together and get engrossed into the Krishna Ras and enjoy it to the fullest.
Given the present situation, we won't be able to present the Nritya Natika physically in front of you.
On the occasion of Janmashtami every year I have been presenting many of the Krishna Leela's in the form of Dancing, but I am feeling an immense pleasure to inform you all that this year Juhu Iskon's Bhakti Kala Kshetra will be presenting this Radha Krishna Utsav Virtually from 8th of August to 12th of August. Many talented artists will be presenting their artworks in this festival. Janmashtami is a festival that marks the victory of good over evil and my association with Juhu Iskon's Bhakti Kala Kshetra is from a very long time.
On this auspicious occasion of Janmashtami along with all my Brijwasi brother's I would like to wish everyone nationally and internationally a very Happy Janmashtami."
Schedule from 8th -12th August, 2020
Host – Bhakt kavi Shri. Das Narayan
8th August – Bansuri recital by Shri. Ronu Majumdar
9th August – bhajan by Shri. Mahesh Sharma
10th August – Bhajan by Smt. Devyani Majumdar
11th August – Bhajan Samrat and Padma Shri Anup Jalota
12th August – Dance ballet by Smt. Hema Malini.
Ishkon facebook – https://www.facebook.com/BKK.ISKCON/?ti=as
Youtube – https://www.youtube.com/channel/UCbAkB7UKU_DJtmsmm7yBjTQ
Time- 9:00 pm