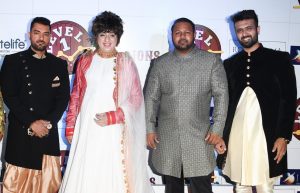 LAUNCH OF A BRAND NEW PREMIUM CLUB "CLUB ILLUSIONS" & FIRST OF ITS KIND "LEVEL 1 – FOOD AND BAR XCHANGE".
&
"CURTAIN RAISER OF DESIGNER ROHIT VERMA'S NEW COLLECTION VRIDDH, WHILE CELEBRATING PRE-DIWALI.
Spearheaded by Vishal Sharma, Pramod Shinde, Sanjay Chawla & Vicky Hamid.
Address-
CLUB ILLUSIONS- 2nd floor, Ambika Acropolis, Veera Desai Industrial Estate, off Link Road, Andheri West, Mumbai
Landmark – Next to Oberoi Springs
LEVEL 1- 1st floor, Ambika Acropolis, Veera desai Industrial Estate, off Link Road, Andheri West, Mumbai
Landmark – Next to Oberoi Springs
Functional time of the venues-
CLUB ILLUSIONS- 19:00 HRS ONWARDS
LEVEL 1- 12:00 HRS ONWARDS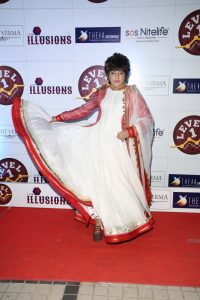 Highlights of Club Illusions
1. Premium Night Club
2. Only club in Mumbai with installation of StoneWater sound.
3. Different brands of liquor specially curated to indulge in gastronomical delights by award winning bartenders.
4. International & National, DJs and artists
Highlights of Level 1
1. Only sports bar in Mumbai with a unique concept of food and bar exchange .
2. Serves global cuisines curated by expert chefs, including asian, fusion, continental and Indian cuisines.
3. Rates of both food and drinks regulate as per the demand and supply of the guests.
4. Juke Box and live performances for the entertainment format.
5. Array of games and engagement activities like short golfing, speed punching, dart games.
6 player carrom, football and much more.
7th November 2020 in Mumbai – For all the party enthusiasts of Mumbai, "CLUB ILLUSIONS" & "LEVEL 1– Food and bar xchange" is the latest foray into the world of clubs and lounges.
A premium night club and a sports bar based in the heart of party destinations, Andheri (West).
"Club ILLUSIONS" is the only club in Mumbai with the class sound system of Stonewater installed which enjoys an international reputation for supplying superb professional loudspeaker systems across the spectrum. With the installation of these speakers, the owners aim that every guest should enjoy an exceptional sonic experience.
"LEVEL 1" however is an upscale, first of its kind sports bar which is a combination of an Xchange food and bar where the rates of food and drinks regulate as per the demand and supply of the guests. A fun, unique and cutting-edge bar and food concept that allows customers to trade in food & booze, with prices starting from as low as MRP prices! Combining the same with various gaming and sporting activity makes it a mandatory place to be in Mumbai.
The impeccable launch saw the very fashionable domiciles of Mumbai and amongst those some of the regular faces of the social circuit including Rashmi Desai, Vindu Dara Singh, Nisha Rawal and Karan Mehra, Kinshuk Mahajan, Gaurav Gera, Urvashi Dholakia, Rajesh Khera, Subuhi Joshi, Rupal Tyagi, Arpit Chaudhary, Rehan Shah, Sandip Soparkar, Deepshikha Nagpal, Smita Gondkar, Ismail Darbar and many more.
Owing to the COVID SUGGESTION, kudos to the team for acing the safety measures and adhering to the all precausions issued by WHO from social distancing, using masks and sanitization, each guest was personally attended.
Vishal Sharma, a hotelier since 10 years, owner of multiple well known restaurants, lounges and hotels in Mumbai, Thane and Goa. He is a marathon runner and an active member of the fitness industry since 7 years, his passion for fitness has also made him start a very reputed gym called Fitness Warehouse Gym – Kandivali "In the last few years, a number of lounges and bars have contributed to raising the city's spirits, but Club Illusions and Level 1 promise to be the very first one of their kind to take the stature of clubs and lounges a notch higher at affordable rates without comprising on the quality"
Pramod Shinde, an active member of Real Estate Industry for 8 years, a hotelier since 2007 who owns multiple restaurants in Mumbai including a hotel in Dahisar. He has travelled across the world and visions to get International experiences to India. A fitness enthusiast since 2010 "Both Club Illusions and Level 1 are well defined places what Mumbai was missing. Our vision is to continue to provide the very best of what the consumer wants & explore new segments of the market and live up to the expectations of the market".
Sanjay Chawla, a true sportsman who holds an immense passion for Cricket and Fitness. An engineer by education, he has 26 years of corporate experience and brings in a lot of structure to the club and lounge operations, he is also a part of the business of infrastructure and facilities for MNCs "To reach and maintain a unique, high-quality image, both the venues will provide attentive and friendly service and will invest in on-going training of its employees. We assure our guests will be our loyal ones forever".
Vicky Hamid, a fitness fanatic, he is a national level spinning champion and Industrialist into Flexible packaging industry "We believe that while both the places will leave a pleasant and long-lasting impression on all its visitors, it should also appeal to a broader canvas of customers ranging from the local to the international. We foresee a lot of repeat visitation to our property as we offer something new every time that they come to us".
Rohit Verma says "Its a big day. Happy to do the curtain raiser of my new collection in Club Illusions. I wish Vishal Sharma, Pramod Shinde, Sanjay Chawla and Vicky Hamid all the very best. Both the properties are outstanding".
Tell me more–
Food & Drinks:- Both the properties boast of a brilliant bar & kitchen with an exhaustive menu of different 'global cuisine' delights like Italian, Pan Asian, fusion, Indian and Continental.
Level 1 – food and bar xchange however, boosts a delicacies from sea food, to poultry to vegetarian and bakery offerings..
Both "CLUB ILLUSIONS" & "LEVEL 1" serves a deeply researched traditional ancient recipe secrets to create progressive fascinating cuisines. The extensively explored twists to the entire gourmet makes it the most strikingly rare menu ever designed comprising of healthy catered food, finger food, combo meals & many more. The cocktails & mocktails range too have been dugout from unexampled experiments between stately monarchical tastes & contemporary mixes to create rare & exclusive drinks.
Both the properties have an in-house mixologist who will ensure that every guest is served customized cocktails to suit their palates experimenting on an array of flavours and spirits contrary to the mainstream cocktails.
Ambience – Both "Club ILLUSIONS" & "LEVEL 1" are synonymous with the urban lifestyle. It has deeply looked into every aspect of space planning, presentation etc while designing the place.
The interiors are a blend of comfortable lounge in a contemporary setting. The neutral tones are offset with contrast hues, dramatic illusion art.
That's not it! The state-of-the-art décor and contemporary ambience at the city's newly opened club and sports bar will play background to the luxury experience which will be equipped with state of the art sound system, gigs by famous djs & Juke Box to meet your personalised taste of music, live bands , gaming, and video systems, serving the need for a true entertainment venue.
Hospitality:-The warm welcome by the staff of " Club ILLUSIONS" & "LEVEL 1 – food and bar xchange " lent the guests their first few moments of comfort, it is committed to providing the consumer with the highest level of hospitality services. Both the properties aims to creates a niche for themselves and set new benchmarks in quality, efficiency and service. The experience at club Illusions and Level 1 is never seen before and shall never be forgotten ever.