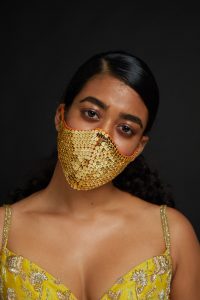 KALKI Fashion Introduces Hand-Embroidered Wedding Masks For The Brides & Baraatis

Marry In Pandemic Style!

With the masks making their official way into bridal fashion, the high-end bridal designer, KALKI Fashion has jumped on the face mask "trend," giving brides and the guest's plenty of rather fashionable options to wear at their upcoming weddings.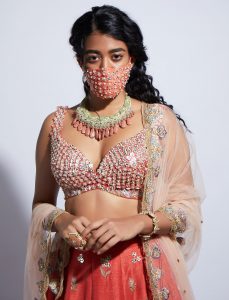 In order to match one's wedding outfits, the brand is making 'non-surgical unembroidered' reusable masks from cloth that was meant for designing their garments & which have been sold as Free Masks to the brides & the wedding guests.
On the other hand, with brides adding their own twists to their D-day outfits, the Mumbai ethnic fashion brand puts a couture spin to the bridal masks & introduces intricate hand-woven embellished masks as an added accessory. Even for the embellishments, they rely completely on traditional textile techniques. While creating a mask that can be best described as hand-embroidered face-coverings, the brand has been supporting rural artisans and handloom communities from their tailoring units by equipping them with the required tools to perfect the craft as well as make a decent living for themselves.
With a sole motive of wearing these masks as a precaution, none of these masks are medical-grade. However, many of them are washable and reusable. 
Whether a classic or a modern bride, bold or romantic, these pretty couture mask options are the perfect fit for the altar.
For such tailor-made experiences, one can directly interact with their in-house fashion stylists with their 'Video Shopping Experience' at their flagship store, Santacruz which is now open every Tuesday, Thursday & Saturday from 11.00 AM to 7.30 PM. Book an appointment here.
For In store Appointment: +91 7290052554
For Video Shopping Appointment: +91 9920012474
Visit them on www.kalkifashion.com for more details.
About KALKI
Born in Mumbai, India in 2007, KALKI evokes the very spirit of the city it was founded in. An upstart, innovative, and dynamic brand – KALKI – offers the best of contemporary, ethnic Indian fashion and fusion-wear styles. Staying true to the brand's unique promise of premium and wearable fashion, KALKI unveils fresh collections and all-new designs throughout the fashion calendar. KALKI's design and aesthetic sensibility seeks inspiration from all walks of life- be it the beauty of nature and heritage in art, architecture and culture, intricate creations, and the modern world to the home-bound handloom traditions of India.Website: www.kalkifashion.com