Experience pure divinity and bliss with Tips Music and Siddharth Mohan's festive offering "Shridharam Madhavam"
This year October brings with it much reason to celebrate as it ushers in festivities for the last quarter of 2020.
To ensure that the festive spirit is amplified, and families everywhere celebrate these occasions with the accompanying familiar sounds of divinity, Tips Music and Siddharth Mohan pour their heart out in a musical rendition "Shridharam Madhavam"
Exuding an aura of positivity and peace, the soulful bhajan devoted to different avatars of Lord Krishna and Lord Rama lends a few minutes of tranquillity and calmness. The video features children portraying different avatars of Lord Krishna and Lord Rama is possibly the most adorable video ever.
"Shridharam Madhavam" is a collaboration of hind classical ragas composed in harmony, presented in a symphonic manner and completed with devotion.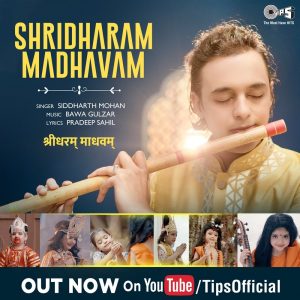 Kumar Taurani says "This is a festive offering to our fans. At Tips we treat our fans like family. Hope it brings joy and happiness in your life. Happy festivals"
Siddharth, who won thousands of hearts through his melodious voice has been casting spells of mysticism with each song and bhajan says "I think this is one of my finest Bhajan, something I was looking forward since long to share with the audience. I hope this can help in bringing peace & calmness in today's stressful times. I hope you all will appreciate it as this was the most memorable shoot I ever did with these innocent & cute kids. Really eager to see the audience reaction to this masterpiece."
A rare and a beautiful piece of art and divinity from Tips Music this festive season.