Big relief for Navi Mumbai citizens with COVID Home Isolation Care services started by Terna Speciality Hospital.

Terna Speciality Hospital & Research Centre joined hands with NMMC to fight against Corona Pandemic.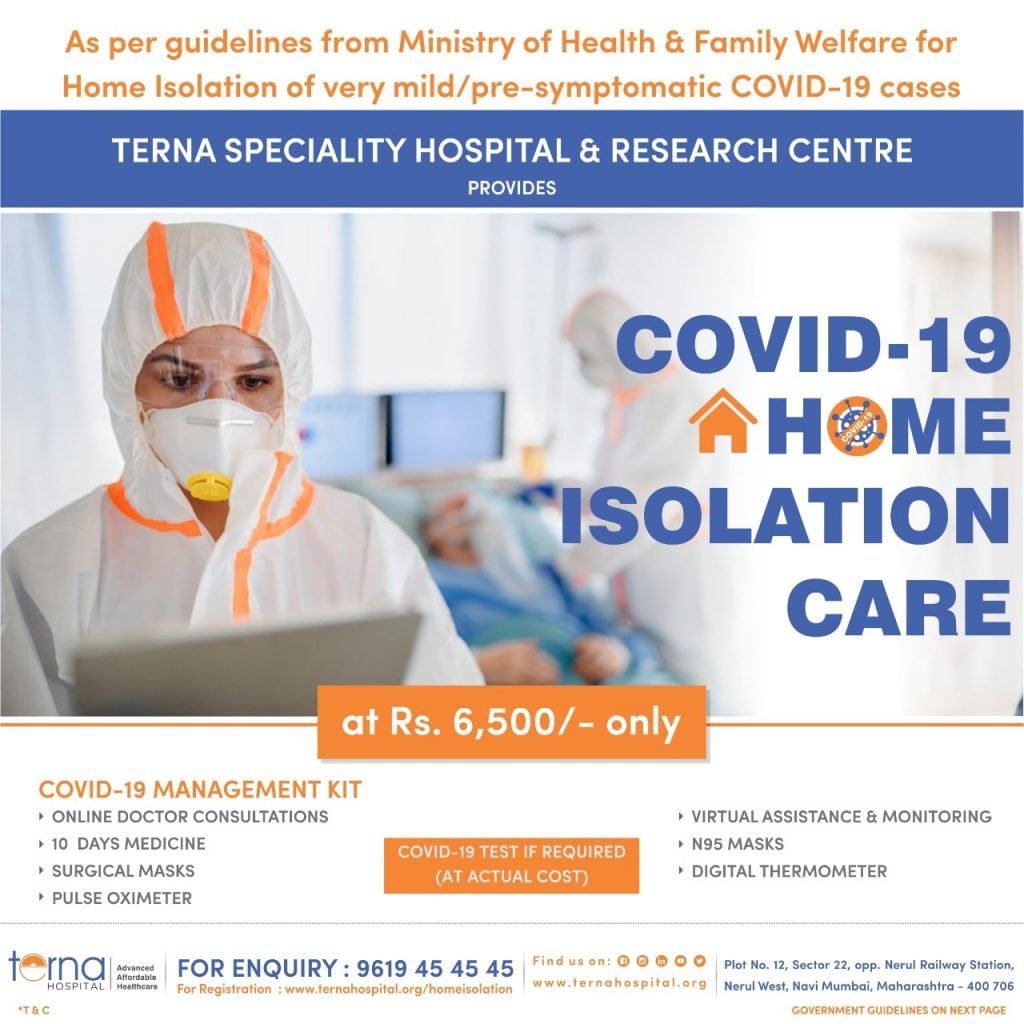 Navi Mumbai- As Maharashtra nears it COVID-19 peak and availability of hospital beds may become further difficult, the state health department has issued guidelines allowing individuals testing positive for corona but with mild or no symptoms to be isolated at home if appropriate facilities are available at their home.
Home care is becoming the next front in the battle against the coronavirus as private hospitals look to ease the burden on overwhelmed healthcare systems. Terna Speciality Hospital & Research Centre in Navi Mumbai is the first hospital who started COVID Home Isolation Care services with minimum charges for patients with mild symptoms of Coronavirus. A 14-day remote monitoring package (Rs.6500/-) home isolation care service which includes Online Doctor Consultation every third day, daily Virtual Assistance & Monitoring, daily monitoring of a patient's vital signs with a trained paramedical staff on call every day, 10 days Medicine, N95 Masks, Surgical Masks, Digital Thermometer, Pulse Oximeter. At the same time, hospitals will facilitate it if hospitalization is required.

"With this initiative, we intend to lend a helping hand to the government in fighting against this immense pandemic by offering Home isolation care services for patients with mild symptoms of Covid-19. We hope this will help NMMC (Navi Mumbai Municipal Corporation) to tackle the disease more efficiently, We are participating in Mass health check-up drive in a different location in Navi Mumbai with NMMC where we conducted more than five thousand primary health checkups," said Santosh Sail, Head Marketing & Communications from Terna Speciality Hospital & Research centre.12 parents who are having mild symptoms have already taken this treatment from Turbhe, Jui Nagar, Koparkhairane, Sanpada & Nerul.