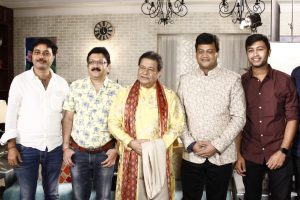 Anup Jalota is new brand face of Him herbal Ayurvedic cough syrup.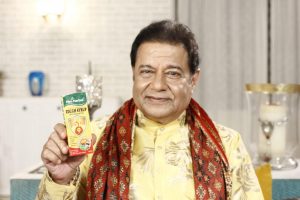 Today we are seeing this versatile man, our Bhajan Samrat Shri Anup Jalota in a new avatar. On the set, he was present in the gathering of his friends, and then later he started singing, while singing he had a sore throat and suddenly he started coughing. Everyone was shocked and upset. Then Anoop Ji took out "Him herbal Ayurvedic cough syrup" and drank a spoon. And then after drinking that cough syrup his throat was healed. When we asked him, then he told us that this medicine made with honey, basil and ayurvedic herbs which is really very effective for throat, this cough syrup is beneficial in cough and cold, also increases immunity with it. After that, famous filmmaker and director Prabhakar Shukla told cut and the shot was over. Everyone clapped on the set. Today we saw Anoop Jalota ji pushing Ayurvedic and product which is made in India. We talked to them. Anup ji said that he is in favor of self-reliant India and believes in Ayurvedic treatment. He said "I am so busy in my online concerts and programs, my immunity should be good that's why I believe in Ayurvedic treatment. I immediately said yes when director Prabhakar Shukla ji narrated this concept with music director Vivek Prakash. I was very satisfied when I spoke to Pawan Aggarwal he told that his company has been making Ayurvedic products for the last 20 years. Now a days People give more importance to self-reliant India, Make in India and Vocal for Local of which I am also part. I enjoyed this new look. Hope the audience likes it too.
When we talked about this with add Guru Prabhakar Shukla, who has made more than 500 ad films, he said, "The name of Anoop Jalota ji came to our mind first because for this advertisement as he is associated with his roots of our country and our product promotes "herbal ayurvedic products" in the same way that promotes Indian culture. Anoop ji's image is associated with the common people, so we hope this product will too her associated with people. Anoop ji is the best artist.
He so creative and can mould himself in anything. He also sung and acted in it this ad. Renowned musician and singer Vivek Prakash has composed a very beautiful tune and we are sure everyone will like it.
When we asked music director Vivek Prakash, he said "I and Prabhakar ji have done hundreds of jingles and ad films together, and as soon as I heard the idea, the name of Padmashree Anoop came to mind first, he sang very beautiful and presented himself on screen as well.
The owner of Him Herbal Company, Mr. Pawan Agarwal ji was very excited. He said "It is a matter of pride and honor for me that Bhajan Samrat Shri Anoop Jalota ji accepted our request and agreed to act in this add of this cough syrup. His This new form will definitely connect people to Ayurveda. Our effort is to get Ayurvedic products at a very reasonable cost and the country should move forward.
So all of you also hold your heart and wait for this new form of Anoop Jalota ji.