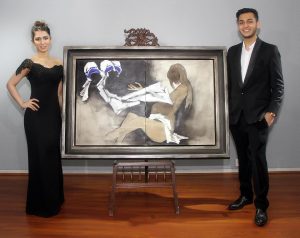 Abeer Vivek Abrol happens to be the youngest bidder of 21years age, at the solo "Husain" auction. He became the proud owner of 1980 painting "Mother Teresa in Benevolence" with his winning bid from the celebrated artist MF Husain's Mother Teresa collection.

"I call her the eternal figure," he had once said." She was a modern Madonna, who embraced the poor and destitute as her own. For me, she is a timeless figure. I will never get tired of painting her."
Mother Teresa, filled a void left by Husain's own mother. "All through my life, I have sought one image – the image of my mother whom I never saw," he said in an interview in 2011.

"I went for this work because it depicts the other side of the painting that started this series for him. It's called 'Mother and Child' (1980)," says Abeer, who will be pursuing a master's degree in art management from Sotherby's, London, next year. "'Benevolence' was finished soon after, and in the same year."

His sister Aashna Vivek Abrol, 26, recently picked up 'Blue Boy on Tree Top', a colourful 1969 canvas, at Sotheby's Boundless India auction in 2019.

Aashna who runs PozoART, an art blogging website, says her love for Husain has only grown stronger since buying 'Blue Boy…'. "We love the masters and have everyone from Manjit Bawa, Krishen Khanna and Akbar Padamsee to Bhupen Khakkar just to name a few in our collection," says Aashna. "I'm happy that Abeer bid successfully for this, since it also comes from one of his signature series."