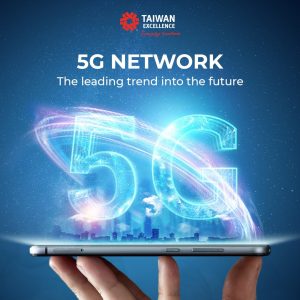 5G Moves towards Open and Interoperable Network Architecture:
Taiwan Excellence Will Ride this Trend
Taiwan/Mumbai- Countries and companies are accelerating digital transformation due to the impact of the Novel Coronavirus (COVID-19) pandemic. Working from home and video conferences are becoming the norm in business while live broadcasts of sports events and online concerts without audiences have caught on. The digitalization of life has become a reality and 5G networks with "high data speed", "ultra-low latency" and "massive network capacity" will be at the forefront of leading humanity into a new digital era.
The architecture of 5G networks has evolved from the old closed-type network solutions, towards a smarter, more open and fully interoperable mobile network.O-RAN Alliance, which is composed of more than 130 network related operators and contributors from around the world, is working to develop common standards and technical specifications to enable multiple vendors to build networks together to stimulate innovation, competition and expand the 5G supply chain.
Taiwan Excellence awarded brands provide 5G network related products with open and interoperable properties.PLANET's"Universal Network Management System (UNI-NMS) is an industry-leading platform that successfully integrates SNMP protocol, ONVIF protocol and PLANET Smart Discovery Software, to enable administrators to manage all PLANET commercial-grade or industrial-grade wired and wireless networking devices under a distributed network infrastructure via one single intelligent platform with built-in user-friendly dashboard design. With its user authentication management, the UNI-NMS further guarantees secure remote management across different network protocols over Ethernet switches, PoE equipment, wireless APs, VoIP devices and IP surveillance devices in any network applications.
Edgecore's "Open Network Disaggregated Cell Site Gateway AS7316-26XB" is a cell site gateway designed for outdoor deployment in cabinets located at mobile cellular tower sites and supports hardened operational temperatures. This hardware design has already contributed to the OCP Telco Working Group as the Disaggregated Cell Site Gateway standard. AS7316-26XB is an ideal choice for deploying as the first aggregation points for multiple cell sites, and deep buffer switches for aggregation within the mobile backhaul network. The Edgecore products offer a choice of open source and commercial software from partners to enable deployment meeting specific operator requirements to reduce the operator's costs, increase choice and expedite the pace of innovation.
Delta's Equipment IoT Platform DIALink is designed for collecting on-site equipment's operating data from CNC machine tools and PLC-controlled equipment, providing a unified interface to the upper management systems, as well as achieving data visualization that efficiently reveals production parameters and operating status in real-time. As an application of edge computing, the DIALink can achieve higher equipment efficiency and energy-savings through data communication, analytics and logistical operations to achieve factory automation and visualization.
Taiwan's network industry is grasping the market trends and opportunities to develop more interoperable and open products, which will contribute to the construction, distribution and application of 5G networks and make comprehensive smart manufacturing and a smart life reality. Taiwan Excellence will ride this trend to launch new products and march on the global 5G market. For more information, please refer to https://www.taiwanexcellence.org/tw 
Contact-wuct@taitra.org.tw