The Modern Vintage Collection – A Royal Rendezvous from the House Of Archana Aggarwal.
Date- 14th and 15th April
Time- From 11:00 am- 8:00 pm
Venue- Taj Lands End, Band Stand, BJ Road, Mount Mary, Bandra (West), Mumbai.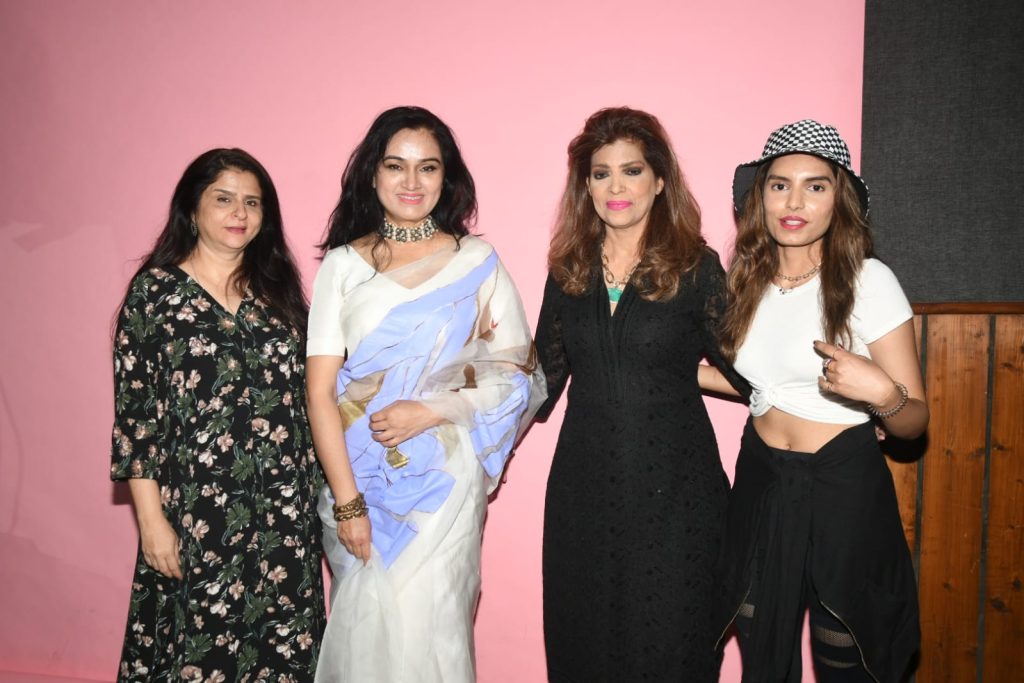 Experience the splendor & magnificence of an exquisite high-end jewellery exhibition for the elite women from The House of "Archana Aggarwal – Timeless Jewellery" titled "The Modern Vintage Collection". Archana Aggarwal's jewellery has perfected the art of creating spectacular designs, characterized by exquisite intricacy, ensuring fabulous craftsmanship with every piece of jewellery she creates. Her jewellery is characterized by a distinctive blend of poetry and refinement.
An AA woman is self-assured in her style. naturally chic, she has a strong idea of what suits her and expresses her femininity through her jewellery. She also adores the luxury of wearing everyday jewels and expresses her persona through her choice of jewellery, from a delicate diamond pendant to an extravagant jewellery piece for a special occasion "It's immensely gratifying to collaborate with friends and coming back to the city that is so close to my heart. I will be showcasing my new Jewellery collection Modern Vintage along with the very talented Padmini Kolhapure, Sita Talwalkar, and Sangeeta Kilachand. Modern Vintage is an ode to today's woman, who is an epitome of traditional values and at the same time a new-age muse. The collection celebrates every woman, from a teenage daughter to a mother, and presents works of art that can be passed on as heirlooms with pride. I am thankful to Bina Aziz for curating a bravura collective featuring such gifted women. See you all at the show!
Archana launched her own label Archana Aggarwal – Timeless Jewellery, her unique designs, and quality in jewellery have always been her strength and forte. To suit the taste of the consumers she has blended the contemporary artifacts into modern designs with authentic and 100% hallmarked certified Jewellery. For more than two decades, she has been crafting luxury jewellery treasures by blending refinement with sophistication. Within this unique savoir-faire resides her passion for fine jewellery making. She adapts royal, traditional, contemporary, and chic trends in her designs, crafting exceptional collections that play with diamonds and precious gemstones which are both rare and unique, sourced from all over the world.
Another luminary to showcase exquisite design is a celebrated actress "Padmini Kolhapure". Her label in collaboration with "Sita Talwalkar" "Padmasitaa Handcrafted Vintage" works hand in hand with the Artisans and karigars (craftsmen) who carry the legacy of handcrafted vintage thread embroidery. It is a very specialised and exclusive craft that their company aims to promote, thus preserving the rich culture and craft. A special collection with eminent artist Bina Aziz will be launched at the exhibition.
Padmini Kolhapure quotes saying "PadmaSitaa was started with an intent to work with artisans from interior India and revive our art and vintage embroideries. Padmini and Sita come from a background of film and fitness and being childhood buddies then forayed into fashion with a strong intent to keep our traditions and culture alive. The name PadmaSitaa is symbolic of goddess Laxmi carrying a lotus. And now we take this brand a notch higher by collaborating with an Artist par excellence Bina Aziz and she plans to take this collaboration to a higher level with her artistic sensibilities through her art and her heart"
Sita Talwalkar says "PadmaSitaa was started with an intent to work with artisans from interior India and revive our art and vintage embroideries. Padmini and Sita come from a background of film and fitness and being childhood buddies then forayed into fashion with a strong intent to keep our traditions and culture alive. The name PadmaSitaa ( brainwave of Padmini)is symbolic of goddess Laxmi carrying a lotus. As a brand we like to work with different techniques and mediums, thus the idea to collaborate with an artist of Bina's stature just happened organically over a cup of coffee"
Sangeeta Kilachand Couture, Inspired by colour rush India has to offer and the rich textile heritage developed across the country, Sangeeta Kilachand's designs draw the perfect juxtaposition between old-world charm and new age royalty. The eclectic collections bring stories and art to life, merely time-travelling to an era of rich embroideries and
delicate silhouettes that fall like a dream. The ensemble that is daring to contrast the drapes, inspired by local artisanal embroideries and techniques that lost their way as time passed by, Sangeeta Kilachand couture thrives at fostering and reviving these forgotten techniques that evoke a regal eloquence – one stitch at a time. They have developed this craft through extensive travel and a bubbling Curiosity for ancient art, architecture, and folk art. After dedicating years to researching the techniques and nuances of the textile and design industry in India, and collecting antique textiles for three decades, to create timeless pieces by focusing on unmatched quality and traditional craftsmanship. Each creation by the studio is widely researched, inspired, and constructed, with a keen focus on uniqueness, silhouette, and fabric. The strongest inspirations come from the Kutch Bhuj regions of Gujarat, indulging in marodi embroidery where the gold thread is handmade by their karigars and dressed on luxurious fabrics, with rich hues from natural vegetable dyes. This special embroidery is showcased on their signature abhas, which is the traditional costume of the region of Kutch. With vibrant contrasts and a combination of stitches, in ancient times, the women of Kutch wore the abhas in tie and dye fabrics with intricate zari. The fabric used to create abhas was either the atlas of Gajji or fine Chinese silk. Sangeeta Kilachand Couture strives to combine the luxury and decadence of the Maharaja era, raw handicrafts, traditional treasures with contemporary design values, and unmatched aesthetics, to create the most beautiful pieces that stand the test of time "I am a revivalist of Indian textiles and embroidery of India. I do heritage vintage clothing. India is such a rich country with varied crafts and textiles"
Madhavi Goenka of Helping Hands will showcase a special collection of her Batwas. Helping Hands Foundation works towards raising funds for Pediatric Oncology. Their projects include free accommodation for families who come to Mumbai for treatment, especially those below the poverty line. They fundraise towards accommodation, emergency treatment, education, and rehabilitation post-treatment via prosthesis. Their product sales help towards the accommodation Project.
Madhavi Goenka, Managing Trustee Helping Hands Foundation says "The summer months are extremely hot and the families who stay on the pavements during treatment are in need of shelter as they are undergoing treatment for cancer. Thank you for supporting the cause of accommodation for cancer patients via Helping Hands Foundation."
Curator, visualiser, and celebrated artist Bina Aziz says "The Royal Rendezvous has been curated by me to bring a confluence of our rich cultural heritage, statement pieces, and timeless works of art onto one platform. I am also delighted to be collaborating with the brand 'PadmaSitaa' and adding another dimension of fluidity to my journey as an artist. It's all about working with the right synergies to bring out the best".
Models- Smita Gondkar, Shannon K
Stylist- Facestories
Photography- Anurag Kabbur
Editing- Shayaan Aziz
PR- Picture N Kraft.