The inaugural edition of "High Flyers 50" unveils.
The most awaited eye-catching and classy coffee table book "High Flyers 50" unveiled in Mumbai on 9th April in the presence of very renowned dignitaries from all over the world. The Book Launch and Honouring Ceremony were held at Novotel Mumbai Juhu Beach. All the 50 achievers across the world have attended the event both physically and virtually and shared their experiences during the event. All the 50 achievers were also conferred with the High Flyers 50 Awards. Bhajan Samrat and Padma Shree Anup Jalota graced the event with his presence as a Chief Guest and unveiled the book. He is also one of the 50 achievers who are being featured in High Flyers 50.
The event saw the presence of Bhajan Samrat Anup Jalota, Padama Vibhushan Avinash Dixit (USA), Lord Rami Ranger CBE (UK), Dr. Chirantan Ghosh (USA), Shree Ram Gidoomal (UK), Shree C. K. Patel (USA hotelier), Dr. Anil K. Mehta (Holland), Mr. Vijay Goel, Ms. Abhnash Kaur Bains (UK), Fatema Agarkar (Cricketer Ajit Agarkar's wife), Best PR Agency- Picture N Kraft.(Parul Chawla ) .These are also among the 50s who are being featured in the inaugural issue of High Flyers 50.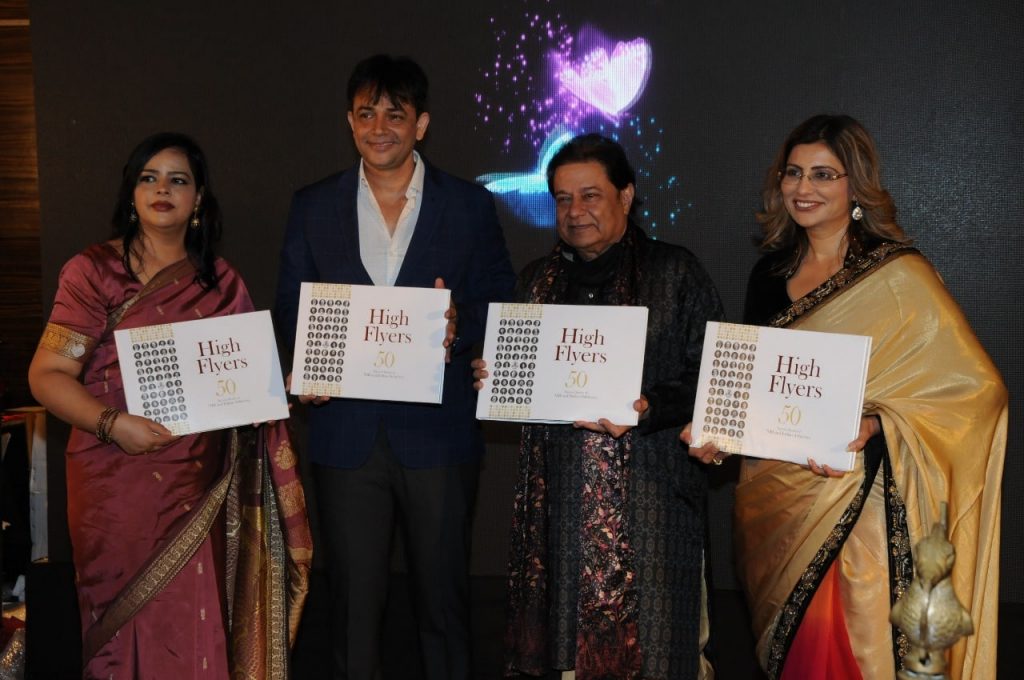 On this occasion, Chief Guest Anup Jalota Says, "It is really a difficult task to find these people and inculcate them on one platform. I am really happy that I too am among the 50s who are being featured in this beautiful book. I wish that more and more editions come out so we can read and know about the people who remain hidden. I appreciate the whole team of High Flyers 50 and wish them a great success for their future editions."
The inaugural edition of High Flyers 50 is all about to feature incredible success stories of 50 Indian and NRI achievers. On this occasion, Ravi Kumar, the founder of High Flyers 50 says "These 50 are the ones who have the potential to make a difference through their incredible abilities. The success stories of these incredible personalities will remain inspirational for the next generations. Through this book, we are just aiming to spread the word about their incredible work and success."
About "High Flyers 50:
"High Flyers 50" is an eye-catching and classy coffee table book beautiful and is one of the most unique books with noble objectives. It is an initiative of the well-known film trade magazine Film & TV Trade Preview. In each edition, the success stories of 50 successful people around the world people who have attained remarkable achievements in their respective spheres will be featured in each edition. It will be available on eBooks platforms. Hardcover/ Paperback copies will also be available on order. Vol. 1 of Indian and NRI edition is scheduled to be published on 9 April 2021.
Objectives:
The objectives of the "High Flyers 50" are particularly to recognize the deserving people for the outstanding work which they have contributed to society in terms of art, culture, entertainment, business, entrepreneurship, philanthropy, sports, politics, and academics. Also, there are many untold and interesting success stories of these succeeders. FTTP feels the responsibility to recognize and appreciate these individuals and spread out their stories to the masses through this new and innovative publication. These success stories can also be looked at as an inspiration for the potential Indians who want to take their career to the next level and of course for those who want to fly high.