StarStudded Grand Launch Of A Brand New Lounge "BPM- The Booze Per Minute.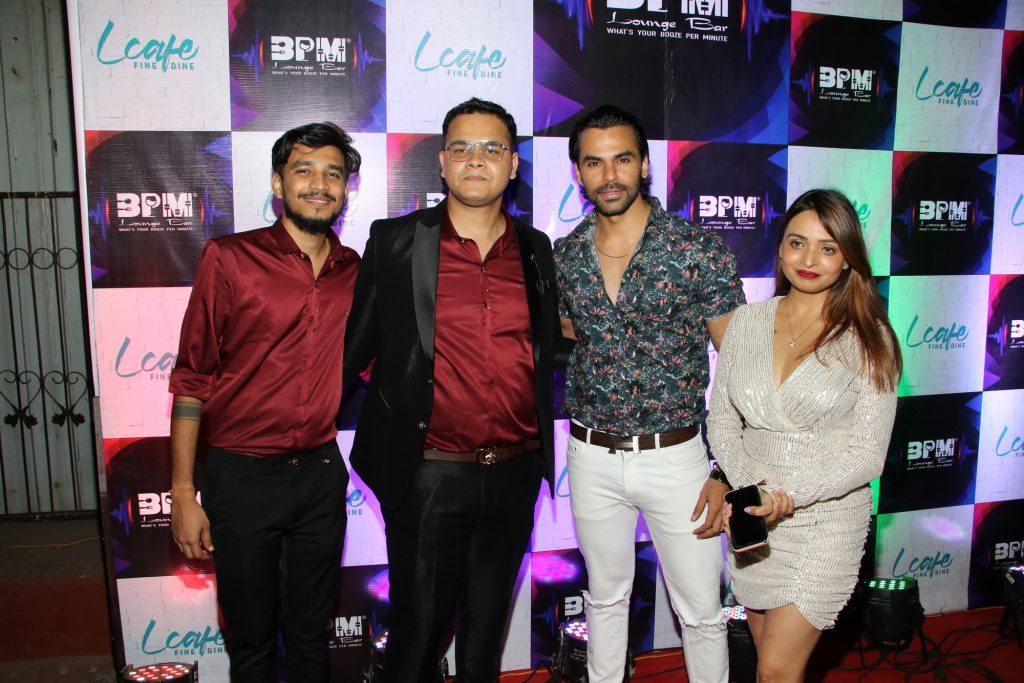 Quinate is happy to announce its 2nd outlet/club while working on the announcement of 3rd
Café, lounge, and workspace in the day, lounge by night, this new place is a promising new addition to Mumbai suburbs' F&B scene.
Venue:- BPM, JB Metal Compound, Off Sakivihar Rd, Sakinaka, Andheri E, Mumbai 400072.
Operational timings of the place:-
1) Rooftop Lounge:- 12 PM to 1 AM
2) BPM Club:- 7 PM to 1:30 AM
3) L – Café:- 12 PM to 3:30 PM & 7 PM to 1 AM
If there's one thing you can tell from looking at social media feeds full of people running away to Goa or the Maldives, it's that we're all looking for some semblance of normalcy; and a place to unwind. That's exactly what Saki Naka's newest hangout, BPM, brings to the table – a fuss-free, easygoing space where you can unwind the way you like. Whether it's chilling on the rooftop, unwinding with a cup of coffee, or letting off some steam by showing off your dance moves, BPM has you covered!
The launch saw the presence of – Vindu Dara Singh, Pritam Singh, Aditya Singh Rajput, Kapil Pathare, Jaan Kumar Sanu, Nakul Roshan, Varun Jain, Sahdev, Mrinal Deshraj, Madirakshi Mundle, Smita Gondkar, Naina Singh, Akash Chowdhury, Umesha Pherwani, Karam Rajpal, Brinda Parekh, Arshi Khan, Ankit Raj, Mrunal Jain, Deepshikha Nagpal, Rakesh Paul, Heena Panchal, Akash Dadlani & many more
This establishment nestled amidst the corporate sect of Sakinaka has something for everyone with a multi-section seating arrangement that includes areas such as a lounge, dance floor, café, rooftop for food and drinks to propel good mood along with live music and karaoke nights, and a larger than life banquet with a conference room attached for corporate events.
Owner of the property, Quinate Hospitality Pvt. Ltd. says "With BPM, I want to redefine how Mumbaikars unwind by offering a place that has something for everyone"
Tell us more
Food & Drinks- The place boasts of a brilliant bar & kitchen with an exhaustive menu of multi-cuisine culinary experiences, however, their USP lies in the chef's curated continental menu. The extensively explored twists to the entire gourmet make "BPM" the most strikingly rare menu ever designed comprising healthy catered food, finger food, combo meals & many more. A list of their must-try dishes includes – Veg Ball Spicy Cheese, Crispy Chilly Garlic Potato, Kung Pao Chicken, Classic Chicken Chilly, Martini Prawns, Tangdi Shahi Patiyali Kabab, Kheema Pav, Paneer Makhamali Roll, and much more.
The cocktails & mocktails range too have been dug out from unexampled experiments between stately monarchical tastes & contemporary mixes to create rare & exclusive drinks. They specialize in concocting crafted cocktails Like – Blue Monday, French Connection, Sidecare, Acapulco, Whiskey Sour, etc. and Mocktails- Orange Passion, Ginger Head Trip, and much much more.
Interiors- Walking in through the door, it takes a minute to soak in the interiors. The rawness & refinement defining the well-lit decors & interiors coupled with micro detailing and vintage vibes add to the ultimate experience at BPM. The interiors are designed from a modern-chic outlook which gives BPM its unique personality. Each section has a unique identity, for example, their rooftop area has a Moroccan theme which goes well with the ambiance. The rooftop area comprises of specially designed table which has a water maze, with flowing water below the tables. A lot of emphasis and effort has been put into customizing the basis of the light the mood of the hour. Keeping in mind the experiential aspect, the early evening hours will hold subtle warm lights to create a mesmerizing and chic character for the club for people to start off with, eventually leading to a high-energy go-to place with chromatic lighting.
It's safe to say the BPM is one of those rare venues in Mumbai with Madrix lights and quality sound which enjoys an international reputation for premium light and sound quality.
The state-of-the-art décor and contemporary ambiance at the city's newly opened venue will play a background to the luxury experience and will be equipped with audio, lighting, and video systems, serving the need for a true entertainment venue.
Hospitality:- The warm welcome by the staff of, "BPM" lent the guests their first few moments of comfort, it is committed to providing the consumer with the highest level of hospitality services. The place aims to create a niche for them and set new benchmarks in quality, efficiency, and service.