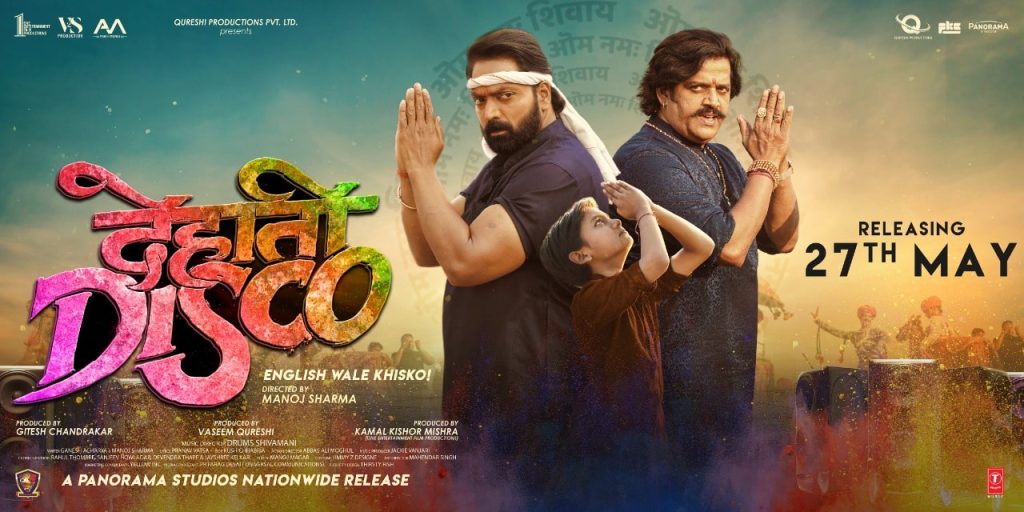 Bollywood Superstars promote Qureshi Productions' upcoming film DEHATI DISCO.
Akshay Kumar, Varun Dhawan, Ranbir Kapoor, and Ranveer Singh among others graced the promotion of Ganesh Acharya's dance based film.
The Bollywood fans were in for a visual treat with the songs and the trailer for Qureshi Productions' dance and music based film DEHATI DISCO which has a unique story and releases on 27 May.
Top Bollywood film stars have promoted the upcoming film Dehati Disco which is produced by Gitesh Chandrakar, Vaseem Qureshi, and Kamal Kishore Mishra. Due to their shooting schedule, some have issued promotional statements while others personally graced the promotional event appealing to their fans to patronize this unique film. A few of the top Bollywood biggies have even promoted this film through their Instagram reels.
It is well known about Bollywood Khiladi Akshay Kumar's close bonding with choreographer Ganesh Acharya who created magic with the Bala Bala Shaitan song in 'Housefull 4' and the Maar Khayega number of 'Bachchan Pandey'. These numbers have attained blockbuster status. The Khiladi Kumar heartily lent his support to the trailer of Ganesh's dance based upcoming film Dehati Disco. During the promotional event, Ranveer Singh and Ranbir Kapoor endorsed the hook step of Dehati Disco to their fans.
Varun Dhawan appeared for the promotional event of this which was held recently at The Club in Andheri, Mumbai while congratulating and wishing the director Manoj Sharma and its producers Gitesh Chandrakar, Vaseem Qureshi, Ayub Qureshi, and Kamal Kishore Mishra. Varun even shook his legs along with Ganesh Acharya, Saksham Sharma, and Saahil M Khan on this hook step. Varun even went a step further, recommending aspiring dancers and actors not to miss this film that would enhance their abilities to perform at auditions.
Dehati Disco is produced by One Entertainment Film Productions under the banner of Qureshi Productions Pvt. Ltd. It features Ganesh Acharya, Ravi Kishan, finalists of Super Dance Chapter 3 Saksham Sharma, Saahil M. Khan, Manoj Joshi, and Rajesh Sharma. The film releases on 27 May 2022 in cinema halls nationwide.